Buying and servicing a new or used vehicle with us is now even more
rewarding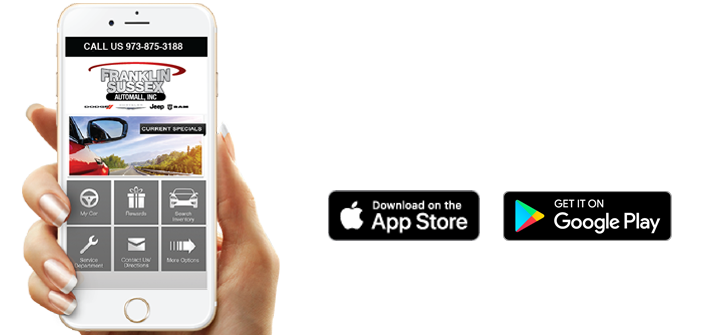 POINTS = SAVINGS
We've created a simple rewards program here at Franklin Sussex Auto Mall, as part of our Advantage Program, that's designed to save you money.
Register for the Advantage Program, and you'll earn points for such actions as liking our Facebook page, purchasing a service agreement or completing our online survey. You'll even earn points on your birthday or if you've served in the military. Points translate into dollars you can use to save on a service visit or your next vehicle purchase at our dealership. Additionally, every dollar you spend in our service or parts departments earns you points.
This rewards program is offered at two benefit levels: Advantage and Premier. By upgrading to Premier, you'll double your savings.
To register for the Advantage Program, log on to FSAutoMallAdvantage.com.
To track your points, access your vehicle's service history, and more, download our free app by searching for "Franklin Sussex Auto Mall" on the Apple App Store or Google Play.
FEATURES
Customer

Referral

Military

Personnel

Service

Agreement

Completing

Survey

Your

Birthday

Like us on

Facebook

Advantage
$25
$10
$10
$5
$5
$5
Premier
$50
$20
$20
$10
$10
$10
GUARANTEED PERKS
In addition to the rewards program, the Advantage Program includes important vehicle ownership benefits. Whether you choose the Advantage or Premier level, you'll receive:
Our Lifetime Engine Guarantee*
Free first oil and filter change plus tire rotation
Complimentary shuttle service (within 10-mile radius)
Lifetime pre-vacation checkups
No-charge collision estimates
These extras are a show of confidence in the quality of the great new and used vehicles we have for sale, and our commitment to customer service after you've driven off our lot.
Every vehicle on our lot here in Sussex, NJ qualifies for the Lifetime Engine Guarantee. This means that throughout your ownership of the vehicle, our team will provide support as necessary, extending to unlimited mileage and time.*
FEATURES
Engine

Guarantee

First

Oil/Filter Change

First

Tire Rotation

Complimentary

Shuttle Service

Pre-Vacation

Checkups

No-Charge

Collision Estimates

Advantage
Premier
EXTRA COVERAGE
Thirdly, our Advantage Program offers several additional coverage plans to enhance your peace-of-mind. These plans include Family Identity Theft Protection, Tire and Wheel Coverage, Key Fob Replacement and Nitrogen Tire Program.
The Advantage level includes 1 year of Family Identity Theft Protection, while the Premier level offers the same protection for 3 years, while also adding Tire and Wheel Coverage and Key Fob Replacement for 3 years. The Premier level also offers participation in the Nitrogen Tire Program for 1 year.
FEATURES
Family Identity

Theft Protection

Tire and Wheel

Coverage

Key Fob

Replacement

Nitrogen Tire

Program

Advantage
1 Yr.
Premier
3 Yrs.
3 Yrs.
3 Yrs.
1 Yr.